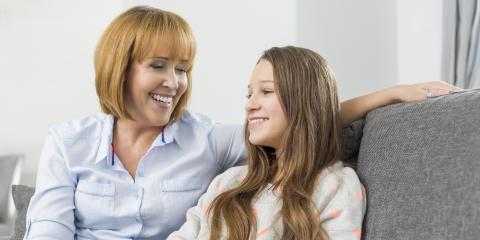 As a parent, you try to educate your children on their bodies and how they'll change as they get older. Explaining to your daughter what she needs to know about menstruation is one of the most important conversations you'll have, but if it's your first time broaching the subject, it's normal to feel a bit overwhelmed. The following guide offers tips gynecologists recommend for educating young patients on what to expect.
3 Ways to Navigate Your First Conversation About Menstruation
1. Materials
If your daughter is a visual learner, consider picking up some educational materials on your next trip to the gynecologist. Most offices stock pamphlets and flyers with information about menstrual cycles designed to ease readers' minds and keep them informed. They may have information on the average age when women start having their period, the average length of a cycle, and what normal and abnormal changes to look for.
2. Products
One of the most important transitions your daughter will have to make is learning about different feminine hygiene products and how to use them. Some of the most common options include tampons, panty liners, pads, and menstrual cups. Bring a sample of each to your conversation with your daughter. Explain how each works and highlight the pros and cons of each. Tell her to experiment with the different options to find the one she is most comfortable with.
3. Expectations
The first time your daughter experiences a menstrual cycle, she may be caught off guard by the symptoms and side effects she experiences. Try to give her as much information about what types of symptoms she may experience in the week leading up to her period, and offer tips she can take to counteract them. For example, tell her that using a heating pad may alleviate cramps, and she should avoid salty foods to minimize any bloating.
If you need help preparing your daughter for her first menstrual cycle, bring her to Greece OB-GYN, LLP. Based in Rochester, NY, these gynecologists have been providing residents with top-quality women's health care services for over 30 years. Visit their website to learn more about their practice, and call (585) 225-6680 to schedule an appointment today.
Original: https://nearsay.com/c/740551/156281/how-to-talk-to-your-daughter-about-menstrual-cycles