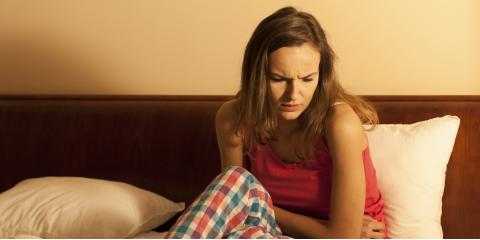 Menstrual cramps can be an unwelcome visitor each month and may range in severity from mild to downright uncomfortable. Fortunately, there are many options for alleviating the pains in the lower abdomen that accompany your period. While you should speak with your gynecologist if your cramps interfere with your daily activities every month or pain worsens over time, here are some ways to alleviate most menstrual cramps.
5 Options for Calming Menstrual Cramps
1. Hot Baths
A warm, soothing bath is often an effective way to reduce cramping. In fact, it could work just as well as over-the-counter pain relievers. Run the bath water and soak with your hips and abdomen submerged for at least 10 minutes to feel the full effect.
2. Warm Compress
If you don't like soaking in a bath, you can still use heat to your advantage. A warm compress, such as a heating pad, heat patch, or hot water bottle, can also deliver relief. Apply the heat to the area of your lower abdomen where the pain is most intense.
3. Exercise
Cardio exercises such as walking, swimming, and cycling increase blood circulation and trigger the release of endorphins, feel-good hormones which could help combat pain. Exercising on days when you feel up to it may relieve cramps, but gentle yoga moves such as cat/cow, cobra, and fish pose could also stave off some cramping.
4. Over-the-Counter Pain Relief
Over-the-counter (OTC) pain relievers such as naproxen sodium and ibuprofen can control cramping. Take the medication following the instructions as soon as you begin to feel symptoms. If you find that these aren't enough to offset pain, make an appointment to speak with your gynecologist. They can prescribe stronger medication if needed.
5. Birth Control
To address more intense cramping, your gynecologist may suggest hormonal birth control. This solution, available in pills, skin patches, intrauterine devices, and other styles, stops ovulation and therefore alleviates the monthly cramping that would accompany a heavier period.
If you're seeking relief from frustrating menstrual cramps, allow the dedicated gynecologists from Greece OB-GYN, LLP to help. Serving residents in Rochester, NY, this practice has been trusted among the community for more than 30 years. In addition to obstetrics and general gynecological care, their providers also specialize in robotic surgeries and other specialty procedures. See their full list of services online or call (585) 225-6680. They now offer extended evening hours for your convenience.
Original: https://nearsay.com/c/813953/156281/5-ways-to-alleviate-menstrual-cramps